The Awarding Ceremony of the second edition of the European Projects Awards took place in the framework of the World Research and Innovation Congress the 6th of June.
The initiative was organized in partnership with the European Academy for Education and Social Research, Informo, and Research Media Ltd, with the cooperation of the Lodzkie Regional representation in Brussles, Communication Package, The Regional Review, and The Research Review.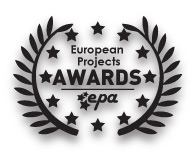 The competition, in line with the themes of the WRIC, was focused on ideas, ongoing and concluded projects in the two working groups "Research Innovation and Technology" and "Environment, Consumers and Health".
The participation was remarkable: in less than three months more than 100 new projects were uploaded on MyEuropa and entered the competition. This confirmed the trend that was established in our first edition in 2012, where the great participation and involvement of more than four thousand members of the European Projects Association proved once again that single citizens or organized groups have the opportunity to improve the quality of life in every sector of the society.
Thank you for helping us building a better society
---